We launched the online policy facility in 2015 and we have been continually developing the broker insurance system ever since. The original concept was an easy and secure portal for our brokers and agents to access our full range of insurance products and issue them with ease.
In addition, with our original launch, we selected new and long lasting brokers and agents to test the system and provide honest feedback on what they felt didn't work and what exceeded in where other systems failed. As a result, this response was the cornerstone in improving the system.
The new system was developed to be the complete tool for our brokers to issue policies, run reports, issue renewals, and keep everything automatic. The system will create and email all policy information direct to the client to reduce manual input and posting fees.
As well as this, the Acasta Portal can be accessed from any device with an internet connection and is also fully mobile friendly for in office or on the road brokers or agents. We believe this element gives a broader range of freedom because it is easy for you to write policies for your customers. Our system also allows for different connections. We can connect through API, IFrames or bespoke build systems due to our in-house developer, graphic designer, and business development managers.
Finally, the system has been designed to be as automatic as possible because it takes care of the manual work associated with policy documentation and invoicing.
Enter your clients' details once and the system will produce all documentation, logs, and invoices. The system will also send you reminders when a client's policy is due to expire.
Available now for all our panel brokers and agents with a very short application form.
Complete access to all our products.
Completely free of charge.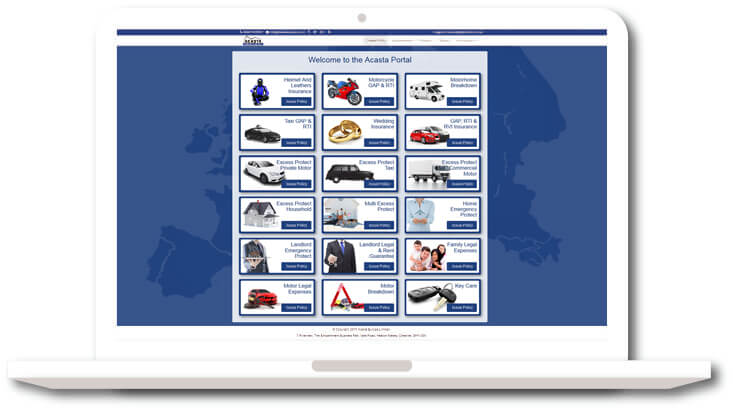 What can Acasta do for you?