Are your clients missing out on wedding insurance they may need?
The average UK couple are now spending approximately £27k on their wedding. With such a large sum of money being spent, are you making the most of the opportunity to sell them wedding insurance?
With the wedding market growing, you could be selling wedding insurance to your clients to ensure they are protected on their big day. Due to this, Acasta Europe offers 4 different levels of cover, from £5,000 up to £35,000 indemnity.
Is wedding insurance necessary?
The cost of weddings is increasing but who is paying out for your clients' ceremony?
Moving away from tradition, according to hitched.co.uk, 32% of couples solely pay for it themselves with a further 51% now only getting a little help from family. Consequently this leaves couples risking their savings if something should go wrong.
Confetti.co.uk state that the average venue costs your client £4,354, due to this you can ensure your client is protecting their investment with wedding insurance. Additionally, with 10% of couples in 2017 choosing to get married in alternative wedding venues their investment could be even more at risk using venues with little experience.
Furthermore, couples are reported to be spending around £3,500 on food for their guests, Acasta's insurance will cover suppliers failing for up to £10,000.
What can be covered?
Our levels of indemnity can protect your clients' investments. If the venue faces any unforeseen circumstances, such as damage or closure, Acasta's wedding insurance will make sure your client is not left at a loss.
• Acasta's wedding insurance covers ceremonies happening anywhere in the world, apart from the USA and Canada. Since 5% of UK couples choose to get married abroad in 2017, it is important your client is protected.
• Our different levels of cover will protect your client up to £35,000 if the wedding is cancelled due to a close relative being injured, sick or having died.
• Our products protect your clients' gifts if they are stolen or damaged, your client will be covered for up to £1,500 with our silver level and up to £10,000 with our platinum cover.
• In 2017 the average wedding dress cost £1,209, our product will reinstate or replace the bridal attire if it is lost or damaged whilst in your clients' possession.
Below is a list of everything our product can cover:
• Cancellation and rearrangement
• Ceremonial attire
• Failure of suppliers
• Wedding gifts
• Rings, flowers, attendant's gifts, and cake
• Wedding cars and transport
• Essential document indemnity
• Photographs and video
• Legal expenses
• Personal accident
• Personal liability
• Optional marquee cover
• Optional ceremonial swords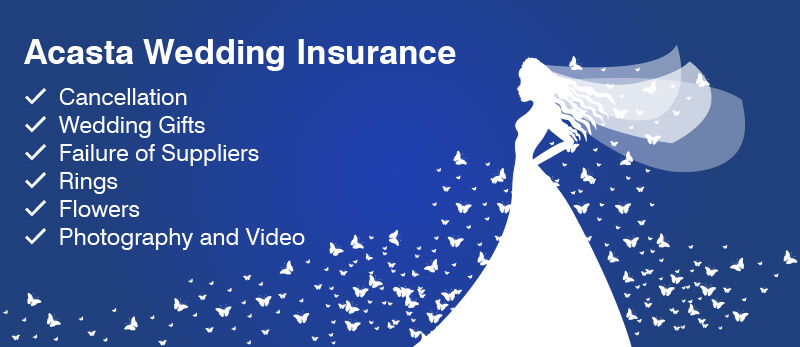 To see the wedding insurance we offer at Acasta, log onto the portal to view the rates and policy wording. Alternatively, you can contact us to find out any further information.
View our rates and documents
Apply to be a broker on our portal
Meet with our Business Development Manager