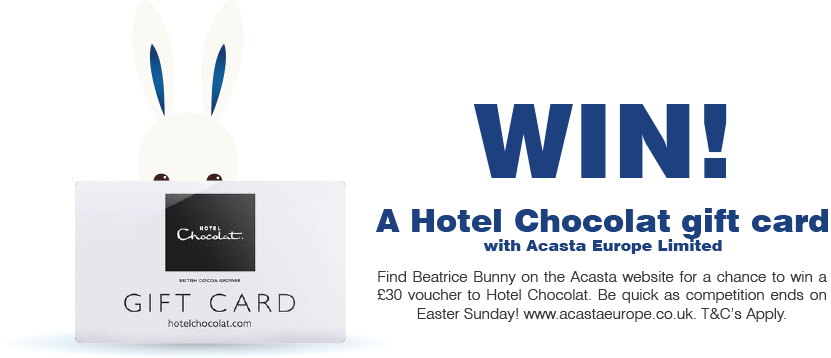 Terms and Conditions
Prize: A £30 e-voucher redeemable at Hotel Chocolat where you can buy anything in their stores or online, drinks at their cafes, meals at their restaurants, and Chocolate Tasting Adventures and other amazing experiences at their School of Chocolate.
To Enter: To enter the competition, you must find Beatrice Bunny on the www.acastaeurope.co.uk website and follow the instructions to enter the competition. No other entry will be counted.
This competition runs from the 27th of March 2018 until the 31st of March 2018 with the winner being drawn at random on the week commencing 2nd of April 2018 and emailed soon after.
The winner will be announced via the website and social media. We will also contact the winner directly. If the winner does not respond within 5 working days, then the draw will be completed again until contact is made with the winner.
One entry per person but more than one person may enter per company. All entrants must leave valid contact details and agree to be contacted if they win.
No email address will be used for other promotional marketing of any products unless the email address in question has already been obtained via another channel accepted within the B2B marketing regulations.
Entrants to the competition must be 18 years old or over and have a valid email address where the voucher will be emailed if randomly selected as the winner.
The voucher cannot be exchanged for a monetary value.
Hotel Chocolat is no way affiliated with Acasta Europe and has not sponsored this competition.
If you have any questions regarding this competition, please contact the marketing department on 0800 668 1350 or marketing@acastaeurope.co.uk.