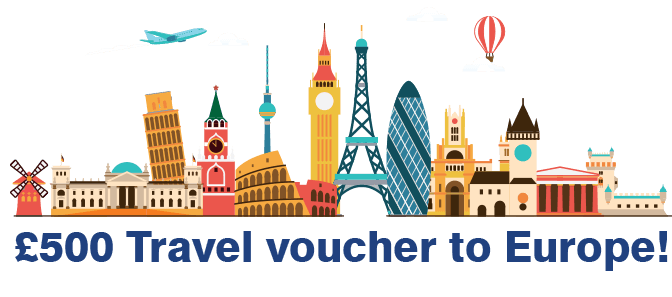 Competition Terms and conditions
Prize: A £500 travel voucher from a choice of travel agents that offer voucher schemes such as Thomas Cook and Jet2. The voucher cannot be exchanged or offered in cash and must be collected where applicable as an electronic voucher. If no electronic voucher is applicable then a paper copy will be supplied and posted.
How to Enter: You must provide your contact details to a member of the team at Acasta Europe Limited in person at BIBA 2018 or by tweeting Acasta a picture of our stand and tagging @AcastaEurope. *Twitter entries must be followed up by email if randomly chosen as the winner with an email confirmation to confirm your identity.
Double Your chance: To double your chance to win you must both provide your details in person to a team member of Acasta Europe Limited and tweet a picture of the Acasta stand at BIBA 2018. Both details will be independently entered into the random draw.
1. This competition runs from the 1st of May until the 18th of May with the winner being drawn at random on the week commencing 21st of May 2018 and emailed soon after.
2. The winner will be announced via the website and social media. We will also contact the winner directly. If the winner does not respond within 5 working days, then the draw will be completed again until contact is made with the winner.
3. One entry per person and double entry through twitter* but more than one person may enter per company. All entrants must leave valid contact details and agree to be contacted if they win.
4. No email address will be used for other promotional marketing of any products unless the email address in question has already been obtained via another channel accepted within the B2B marketing regulations or if we believe the marketing is of specific legitimate interest to the recipient and company.
5. Entrants to the competition must be 18 years old or over and have a valid email address where the voucher will be emailed if randomly selected as the winner.
7. Thomas Cook, JET2, or any other travel agent where the voucher is purchased is no way affiliated with Acasta Europe and has not sponsored this competition.If you have any questions regarding this competition, please contact the marketing department on 0800 668 1350 or marketing@acastaeurope.co.uk.